You Could Have Done Better but I Don't Mind
This is a product review. I'm going to begin including some of these from time to time, because I tend to link products but never really speak much about them, and because I want to. The product was purchased by me. There are no affiliate links. Nothing is sponsored. If you don't want to read the review, close your eyes now.
This is a Fitbit Charge 3, my third Fitbit tracker. My second was a Charge 2, and my first was a Flex. I've loved having them. When my Charge 2 died, I used the Flex until the new one arrived because I desperately didn't want to lose my step count. I've grown to love the data collected and reported by Fitbit trackers.
But…
My Charge 2 died because somehow the sensor cracked, and condensation destroyed the innards. It was past the warranty, so I had to buy the Charge 3, which is now also past warranty. These black lines began forming about two months ago. At first it was just one across the top. No big deal. Then, a week later, a second line formed. Now 72,492 lines have formed, both vertical as well as horizontal, making it nearly impossible to read. Thankfully, it still keeps track of my sleep, steps, heart rate, and all that fun stuff.
While it's nice that it's still functioning as a proper tracking device, I have also come to rely on the watch aspect, which is now basically worthless. Multiple times over the last two weeks, I've woken up in a panic that I've missed the vibrating alarm, looked at my clock face reading '1'-109, and thought a more vulgar version of, "Poo! I've overslept!"
Rather than go back and pay $150 for a brand that consistently fails me (except the Flex, which is still working just fine), I went to Garmin. Specifically, I chose the Venu. Garmin tracker/watches are not inexpensive. If I knew for certain the watch would last longer than my experiences with the Fitbits, I would probably have gone with the fēnix® 6S, but at quite a high price, I couldn't justify that sort of spending on a personally as-yet-untested brand.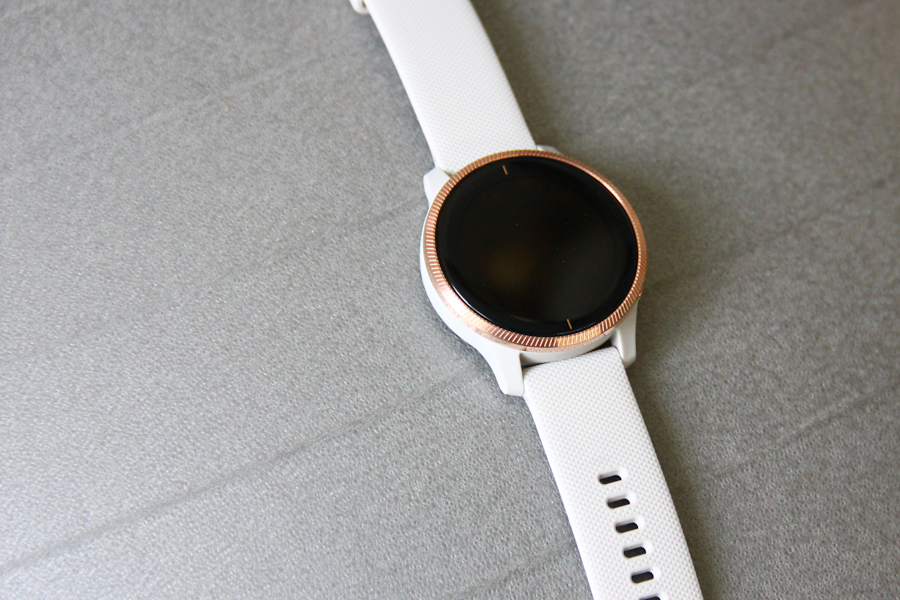 So far, it's been a positive change. Granted, the Fitbits worked lovely for about a year, and I can't test the Venu for a year before talking about it, so I can't yet speak to its longevity. However, there is a marked difference in the build quality. The amoled screen is a massive upgrade, and the ability to adjust settings (like setting a new alarm, inputting your water intake, etc.) directly on the watch face is such a pleasurable change from having to use the app for everything.
You can also adjust the watch face to show a massive amount of information or to just look pretty; though it does seem to cause a delay in turning on when you're using a downloaded watch face versus the default Garmin offerings. I'd say the reactivity goes from half a second to 1.5 seconds, which may not seem like a lot, but it can be a bit annoying when you're in the middle of a workout and want to check your heart rate but have to wait for it to show up. Luckily, there are activity profiles which you can activate for doing certain activities, such as running, hiking, golfing, skiing, yoga…ing, and that screen is quick to turn on. However, if you don't want to activate profiles and you just want your everyday watch face, but the delay bothers you, there is an "always on" feature, which leaves the face … always on.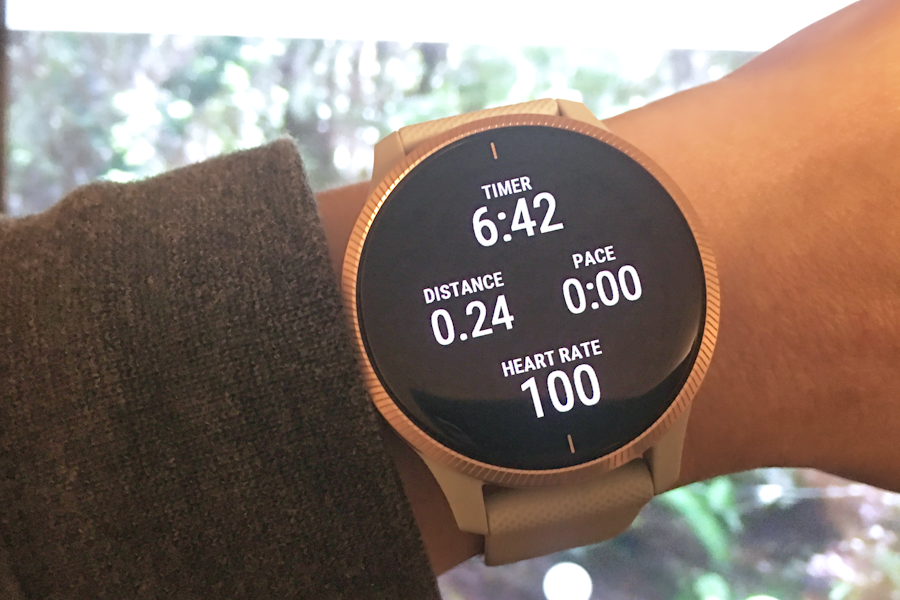 This is the walking indoors profile. I was doing the iFit program, Everglades National Park Walk, Miami, Florida with Idalis Velazquez. I was doing it late at night, when I prefer to do the treadmill, so the picture is awful. Also, it's not easy to take a good photo while walking. I think perhaps I stepped onto the rails for this one, but I don't know. I took like 200 pictures, and this is the only one that was in focus. Why are you judging me?!
There are a lot of features I haven't yet explored. Going from a fairly basic tracker like the Fitbit Charge 3 to one with all the bells and whistles that Garmin offers is going to take some getting used to, unless you read the manual, which is quite the novel idea.
All in all, so far, I'd have to say Garmin is winning between my experience with the Fitbits and now the Venu. Much like switching to a smart phone from your rotary dial wall phone, it's just a more advanced watch, which is naturally going to be a lot more fun. If you're looking to get a fitness tracker, or even just a regular watch, I don't think you could go wrong with Garmin. There are a lot of styles to choose from and a large price range, though as I stated before, they're not inexpensive. However, you get what you pay for, and spending $300 once versus $150 three times is, if my math opinion is correct, better in the end.
Title From:
Don't Think Twice, It's All Right
by Bob Dylan