And Suddenly Everything Is Right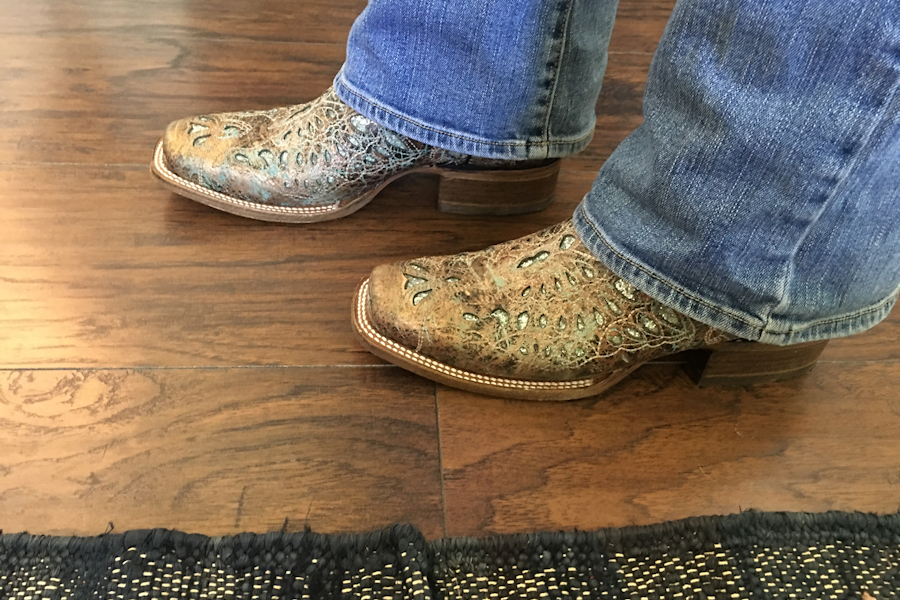 I finally bought my first proper pair of cowboy boots. I feel like it's a rite of passage. Five years in Montana, you either get a pair of cowboy boots or a cowboy hat, your pick. Ten years and you get a pick'em'up truck. Fifteen years and you get one of those handlebar mustaches. I wonder if mine will bring out my eyes.
Note: I'm not going to link to these boots because the prices are vastly different between sites, and the size inventory seems limited in nearly every instance. If I linked to a site with the best deal today, they may not have your size anyway. They are Corral Boots in the 'Sabrina' style or A2955, depending on where you look.
FYI: The coloring of this photograph is more accurate on my right foot (the boot at the top of the picture). I apologize for the poopiness of the quality. Right now my graphics card is disabled, so I'm unable to edit proper photos, and I took this antique iPhone picture in the evening and in the shadow of the coffee table, because it's fun making things difficult for myself.
Title From:
New Shoes
by Paolo Nutini