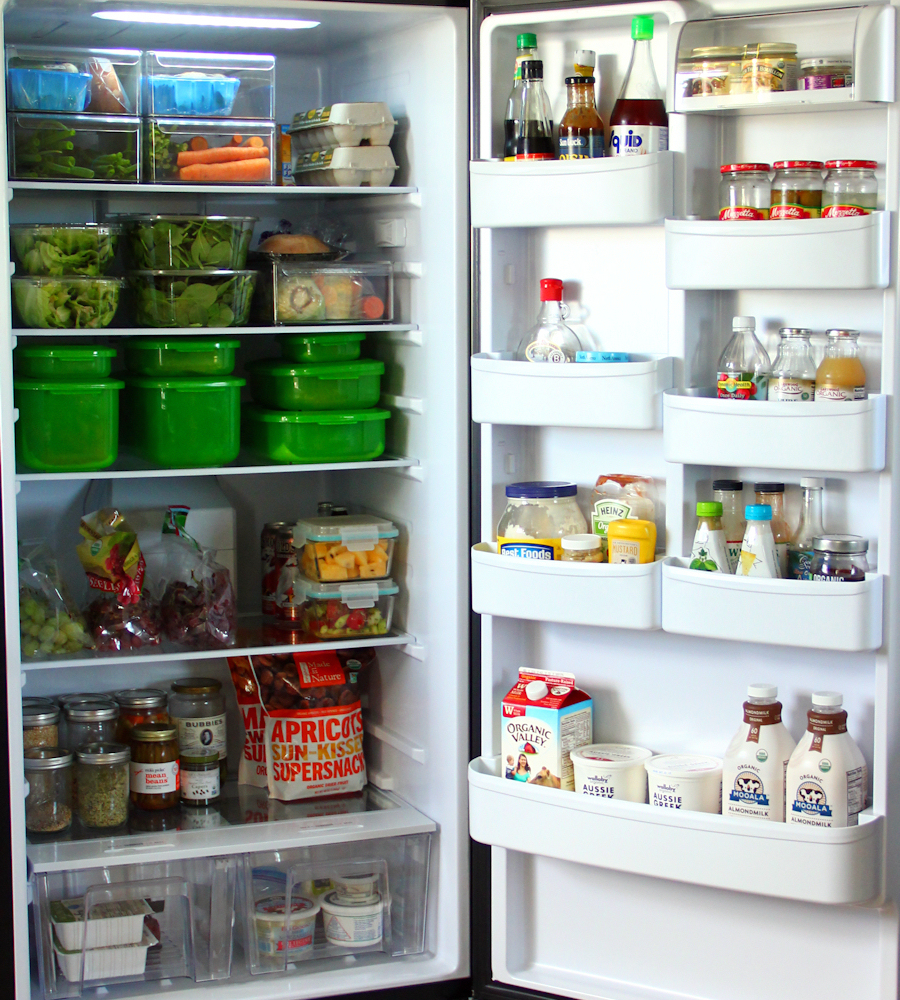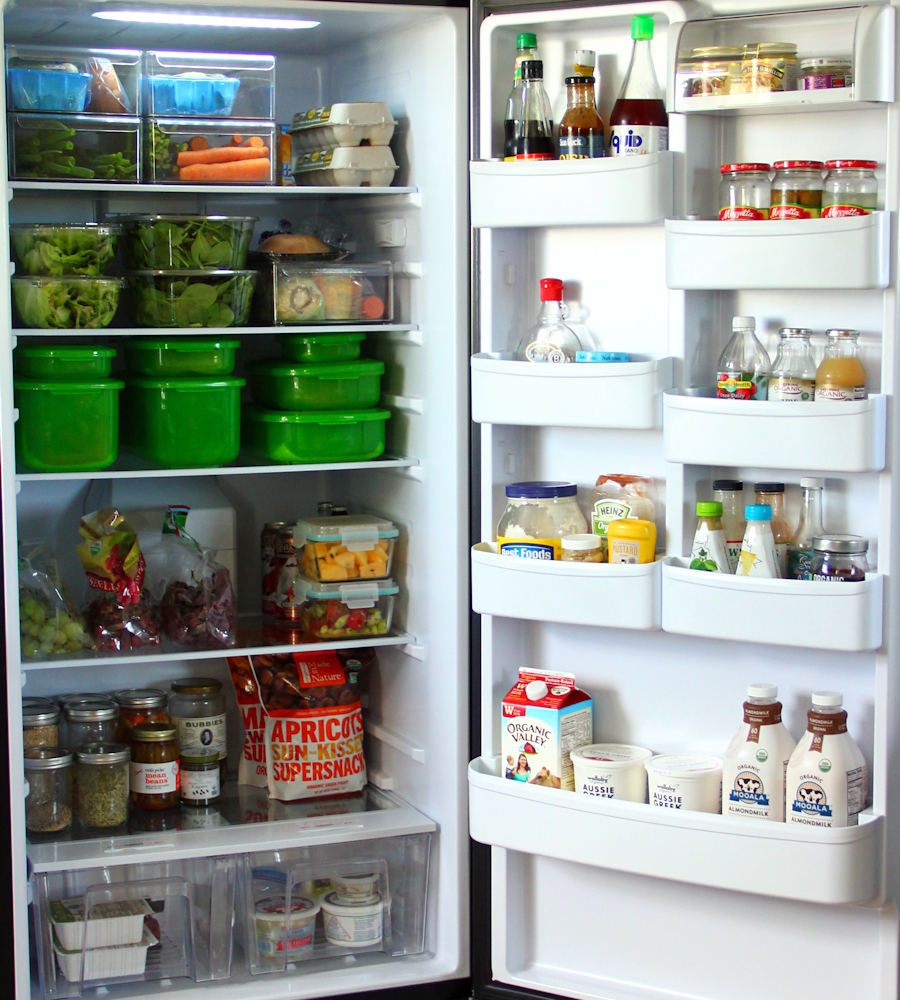 Note: Please excuse this awful photo full of darkness and overexposures. The lighting in this refrigerator is straight out of Saw.
Right now our new refrigerator is sitting in the kitchen, properly blocking access to the kettle I use to make my fancy instant coffee every morning (a relatively new habit). It's resting upright, as instructed, for six hours, before we will move it into place and throw the old one into the Goat Shed. It's taken quite some time to finally get the refrigerator here, but now that it's arrived, I'm extremely excited. There are still some feelings of trepidation since the fridge remains encased in its dirty cardboard shipping box, potentially hiding dings that would require smashing it back out the door it barely fit through, but the overwhelming feeling is that of excitement.
Our little pianoforte table has been home to a lot of our produce for the last several months. The windowsill above the table has been lined with marble to allow fruits to sit up there as well. Currently, there are three pears and three apples on the sill, and on the table are eleven bananas, a pint of cherry tomatoes, two enthusiastic basil plants, one small watermelon, one yellow-rind watermelon, one piel de sapo melon, and two huge acorn squash…es. The fridge is packed with the normal lettuce, carrots, celery, zucchini, cucumbers, various peppers, etc. Tomorrow is grocery day so even more will be joining the family of gnat attractors. With the freezer-less refrigerator comes room to finally put peaches away so they last more than two days and have a cold orange once in a while.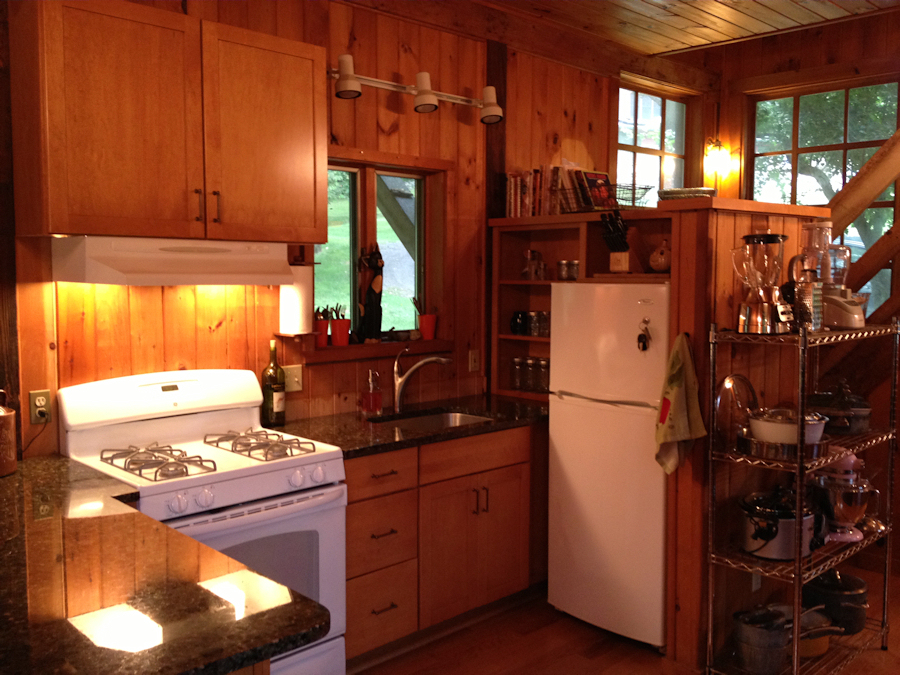 We lived with a tiny refrigerator in our Connecticut cabin, but we also lived within reasonable driving distance of pretty nice stores, (and farms) which meant Brian could stop off on his way home to grab fresh produce for one or two dinners, and we didn't have to crowd a week's worth of food into what was essentially a medium-sized cooler. Here, not so much. The stores we shop at are out of the way, and the supply is a roll of the dice on whether something will be there, and if it's there, whether it'll be moldy or not, so you get what you want when you see it, and then you try to find places to hide it from the mice. We now have 17 cubic feet of hiding spaces and I can't wait to fill them up.
Update: The fridge has been unwrapped, put into place, and stuffed with all the things. I wanted to spend today organizing* everything, but I found mouse poop in the cabinet where we keep the Debbie Meyer green boxes, so I've had to spend the day cleaning every. single. dish. and finding the possible entry.
Update, Again: It occurs to me others may also enjoy the "What's in my fridge," concept, so here's an absurdly long list that will require I go open the door 4,392 times. ♫ What can I say but hey, you're welcome! ♫
I'll link what I can. Nothing is an affiliate link, blah, blah, blah.
❀  ❀  ❀  ❀  ❀
Top shelf: (left bin – upper) 1 bag 4Earth Organics sugar snap peas, 2 poblano peppers, 1 box white button mushrooms, 1/2 white onion in a bag, (left bin – lower) 4-5 hatch chiles, 2 jalapenos, 2 bundles green onions, (right bin – upper) 2 boxes white button mushrooms, (right bin – lower) bunch of celery, a lot of carrots, (next to bins) 1 box Arm & Hammer fridge-n-freezer odor absorber, 2 dozen Mission Mountain Organic Eggs – extra large
Second shelf: 2 boxes organic girl romaine heart leaves, 2 boxes organic girl baby spinach greens, (bin) bunch of celery, a lot of carrots, 2 plums, 2-pack of portobello mushrooms
Third shelf: (1st stack) alfalfa sprouts, a lot of cucumbers, a lot of sweet peppers, (2nd stack), 2 portobello mushrooms, 2 boxes worth of organic girl supergreens!, (3rd stack) I think that little box is empty (housing a lonely paper towel), 2 portobello mushrooms, a lot of zucchini
Fourth shelf: 3 bags of grapes, 1 container of yellow watermelon, 1 container of cucumbers, sprouts, and cherry tomatoes, mixed with an Asian-inspired vinaigrette, 2 cans KettleHouse Cold Smoke Scotch ales, 1 bottle Fentimans Curiosity Cola, 1 bottle Fentimans Dandelion & Burdock
Fifth shelf: 1-quart raw cashews, 1-quart raw sunflower seeds, 1.5-pints raw sesame seeds, 1.5-pints peanuts, 1-pint raw sesame & raw sunflower seeds, 1-pint Manitoba Harvest hemp hearts, 1-quart various pickled things (celery, carrots, peppers, garlic, onions, cucumbers, whatever I feel like tossing in, etc.), 1 jar rick's picks Mean Beans, 1 jar Bubbies bread & butter chips, 1 jar Jeff's Naturals capers, 1 bag Made in Nature dried apricots, 1 bag Made in Nature dried mangoes
Drawers: (left) 2 containers of Wildwood extra firm tofu, 1 package Niman Ranch boneless thick cut pork loin chops, 1 package Thousand Hills chuck pot roast, (right) 1 tub BelGioioso fresh mozzarella – Ciliegine, 1 tub BelGioioso ricotta con latte, 1 pot Amaltheia Organic Dairy plain chevre, 1 log Montchevre jalapeno goat cheese, .6 lb. round of store brand smoked gouda, 1 brick Rumiano sharp cheddar
Door: (left side) 1 bottle Thai Golden Mountain Sauce, 1 bottle Maekrua oyster sauce, 1 bottle Sun Luck hoisin sauce, 1 bottle Squid Brand fish sauce, 1 bottle Red Boat fish sauce**, 1 bottle Shady Maple Farms maple syrup – dark, 1 jar Crofter's superfruit spread – North America, 1 barrel Best Foods mayonnaise, 1 bottle Heinz ketchup, 1 bottle Sir Kensington's yellow mustard, 1 jar Bubbies prepared horseradish, (butter compartment) 1 pot Better Than Bouillon base – roasted beef, 1 pot Better Than Bouillon base – roasted chicken, 1 pot Emperor's Kitchen chopped ginger, (right side) 1 jar Mezzetta super colossal Spanish olives – pimento stuffed, 1 jar Mezzetta deli-sliced tamed jalapeno peppers, 1 jar Mezzetta cocktail onions***, 1 bottle Dynamic Health Tart Cherry Ultra 5x concentrate, 1 bottle Lakewood lime juice, 1 bottle Lakewood lemon juice, 1 bottle Drew's Organics Chipotle Ranch dressing, 1 bottle Drew's Organics Smoked Tomato dressing, 1 bottle organic girl herb goddess dressing, 1 bottle organic girl white cheddar dressing, 1 bottle Coconut Secret coconut aminos, 1 jar Farmhand Organic Simply Beets (sorry, I can't locate these anymore), (bottom shelf) 1/2-gallon Organic Valley whole milk, 2 tubs Wallaby Aussie Greek yogurt – plain, 2 jugs Mooala almond milk – original
❀  ❀  ❀  ❀  ❀
* I never got around to organizing anything, this is just how I put things in when transferring between refrigerators. I did use that time to attempt to forward-face all the labels. I almost completely succeeded. Don't look at the pot of ginger. Hey! I mean it.
** If you've never tried fish sauce and are nervous about the idea of fermented fish, I'd suggest Red Boat for your first attempt. It's by far my favorite. It's a little pricier, but worth it, especially if you're putting it in a dish, dip, or sauce where the flavor is prominent, such as prik nam pla. If you've tried fish sauce before and think you hate it, I'd still suggest giving Red Boat a go. It's vastly different than, say, Blue Dragon, which I cannot stand. Sore-ee Blue Dragon.
*** These are disgusting.
Title From:
Day-O (The Banana Boat Song)
by Harry Belafonte